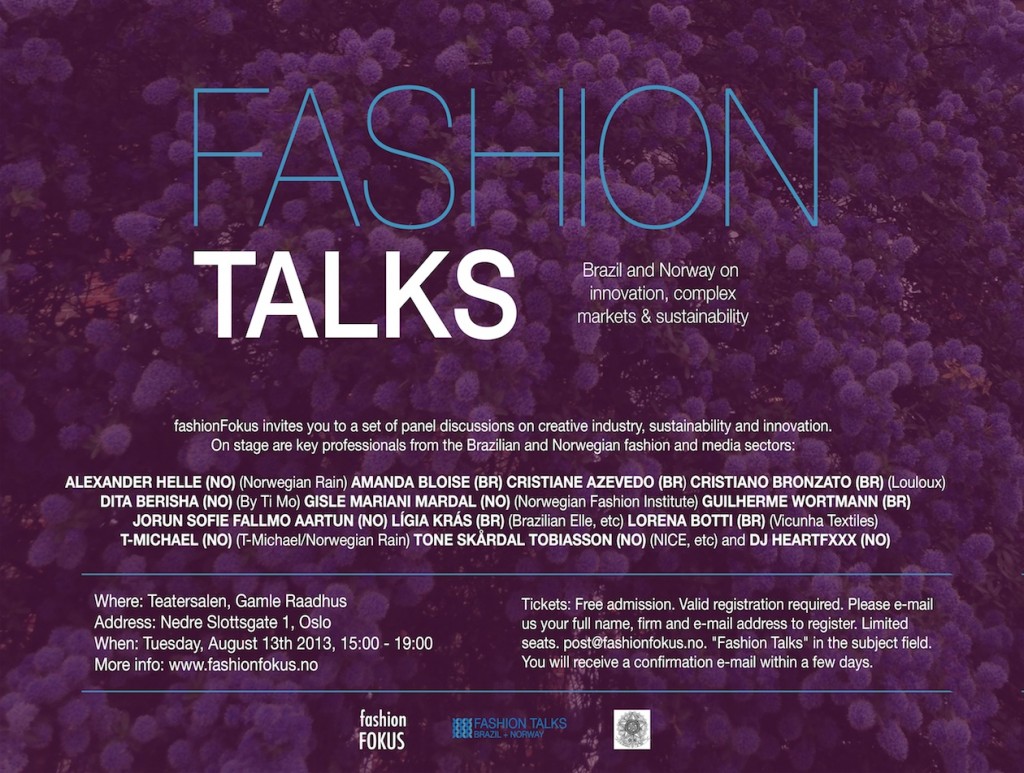 Read a recap about the event here.
fashionFokus invites you to the seminar «FASHION TALKS – Brazil and Norway on innovation, complex markets and sustainability». The seminar is at Teatersalen at Gamle Raadhus (Nedre Slottsgate 1) in Oslo, Tuesday 8.13.2013 at 3:00 pm to 7:00 pm.
On stage are key persons from the Brazilian and Norwegian fashion and media sectors. Gisle Marianie Mardal, Manager at Norwegian Fashion Institute, is moderator of the panel discussions.
Speakers:  
Alexander Helle (NO), Creative Director, Norwegian Rain
Amanda Bloise (BR), Sales Manager and Strategist in the cosmetic industry in Brazil
Cristiane Azevedo (BR), Publisher and Agent, Gharimpeira Joias Design, AM | jewelry • concept magazine, etc
Cristiano Bronzato (BR), Shoe Designer/Shoe Maker, Louloux
Gisle Mariani Mardal (NO), Manager, Norwegian Fashion Institute
Guilherme Wortmann (BR), Art Director, Architect and Set Designer (prev. Superuber, Ydreams, Globo Channel)
Jorun Sofie Fallmo Aartun (NO), Journalist and Author
Lígia Krás (BR), Writer, Coolhunter and Researcher, Brazilian Elle magazine, the Norwegian Embassy in Brazil, prev. WGSN, etc.
Lorena Botti (BR), Trend Researcher and Coolhunter, Vicunha Textiles
T-Michael (NO), Designer and Bespoke Tailor, T-Michael and Norwegian Rain
Tine Mollatt (NO), Founder and Designer, By Ti Mo
Tone Skårdal Tobiasson (NO), Editor, www.nicefashion.org, Oslo Fashion Week magazine.
and DJ HEARTFXXX (NO)
The seminar is aimed at persons who work in fashion or in the media industry, but the event is open to everyone. There will be mingling before and after the programme on stage. The panel discussions will be performed in English.
«By bringing together two different countries like Brazil and Norway, we'll get different perspectives on important topics like innovation in fashion and sustainability. An open dialogue also opens up for new possibilities for both parties,» says Nora Krogh, Manager at fashionFokus.
«The differences between Brazil and Norway as fashion nations are countless, but we also see many similarities. For instance we meet many of the same challenges like globalisation, fast fashion and Internet. And in addition there are lots of exciting things happening both in the Brazilian and Norwegian fashion scenes that we should talk more about, «says Siw Andersen, founder/manager, fashionFokus.
Tickets
Free admission with valid registration. To receive an invitation and/or sign up, send an inquiry to post@fashionfokus.no with your full name, company and e-mail address. Put «Fashion Talks» in the subject field.
Deadline for registration is August 9th. On approval of registration you will receive an e-mail within a few days. Limited seats.
Info
The seminar is an independent project initiated by NGOs from Brazil and Norway with support from the Brazilian Embassy in Oslo. For more and updated info, please visit fashionfokus.no. Follow us on Facebook, Twitter and Instagram. #BrazilNorway
Siw Andersen
siw@fashionFokus.no
+47 99721004
Speakers
Amanda Bloise (BR)
Amanda Bloise (35) has 12 years experience from the cosmetic industry, working for multi-national companies in Brazil. Her expertise is to study and discover trends and tendencies in the Brazilian market in addition to creating marketing strategies for customer consumtion that link trends and technology. Amanda is a graduate of Pharmaceutical Science at the University of Sao Paulo and she holds a masters degree in Marketing and Strategy from Fundação Getulio Vargas (FGV).
Cristiane Azevedo (BR) 
Cristiane Azevedo has worked in the jewelry sector for 14 years. In 2008 she founded Gharimpeira Joias Design, which represents jewelery design talents and bridges the gap between the designers and the final consumers in both Brazil and abroad. In 2012 she launched GAM | jewelry • concept, a magazine that manifests culture, fashion and design within the jewelry universe. She has organized jewelry pop up stores such as Flip (International Literary Party of Paraty), worked with São Paulo Fashion Week and interior design events such as Casa Cor and Mostra Black, among others. She has worked with fashion designers like Emannuele Junqueira, Simone Nunes, Samuel Cirnansck and the label Amapô. Cristiane's newest conquest was taking up the direction of BR&J magazine, a pioneering publication in the sector that has been in the market since 1959. Cristiane holds an Industrial Design degree from Universidade Paulista and is currently pursuing an MA in Fashion Marketing and Communication at IED – Instituto Europeo di Design.
Cristiano Bronzatto (BR) 
Cristiano Bronzatto is the designer behind the shoebrand Louloux, or as he prefers to be called himself: the shoe maker. Cristiano exploits the use of local elements, from the past and present, to create the Louloux shoes, and his ironic view on estethics often result in edgy creations. Cristiano uses strong colours, dynamic patterns on simple backgrounds and stark geometrical heels. The result is comfortable, wearable art works for the feet. Eco-friendly and sustainable production are both a part of Loulouxs design and vision. The materials are scraps from production excess and each model is produced in a limited an exclusive quantity.
fashionFokus (NO) 
fashionFokus is a forum and network for professionals working in the fashion and media industry in Norway. Their mission is to facilitate an open forum and extensive network that shall promote, strengthen, educate, challenge and inspire Norwegian fashion forward. They have organized numerous seminars and panel discussions since 2009.
Gisle Mariani Mardal (NO) (Moderator) 
Gisle Mariani Mardal is the manager of the Norwegian Fashion Institute. From his experience in establishing focus on fashion as a developing industry in Norway since 2009, Mardal holds unique insight and knowledge regarding innovation, entrepreneurship and globalization in the creative industries.
Guilherme Wortmann (BR) 
Guilherme Wortmann (30) is an architect, art director and set designer based in Rio De Janeiro. He creates visual concepts and multimedia spaces  and has worked with numerous projects such as exhibitions, set design for movies and TV, visual merchandising and urban interventions. Previously he has worked with companies like Superuber, Ydreams and Globo Channel.
Jorun Sofie Fallmo Aartun (NO)
Jorun Aartun is a Norwegian journalist and author, having contributed to Dagens Næringsliv, VG, Natt&Dag and NTB. Currently Jorun is based in London working as a foreign correspondent.
Lígia Krás (BR)
Lígia Krás (33) is one of the best known coolhunters in Brazil and previously she has worked as a researcher for WGSN. Currently she's a permanent columnist for Elle Brazil Magazine in addition to researching behavior and consumption in the fields of fashion and lifestyle. For the past 5 years, as a anthropologist and researcher of Norwegian cultural innovation, Lígia has collaborated with the Norwegian Embassy in Brazil on various projects. Lígia is the initator and manager of the Brazil-Norway exchange, and this is the first project she is organizing for the Brazilian Embassy in Norway.
Lorena Botti (BR)
Lorena Botti (30) is a trend researcher and coolhunter. Currently working as the coolhunter for Vicunha Textiles, one of the largest producers of denim in Latin America. Some of Vicunha Textiles' clients include brands like Calvin Klein and Gucci. Lorena is educated within fashion and has won several fashion creation contests in Brazil.
Norwegian Rain 
Raining 2 out of 3 days inspired bespoke tailor / designer T-Michael, known for his conceptual approach to his handcraft, and creative director Alexander Helle, a business graduate, to create Norwegian Rain. – A solution to their life in the rain. The award-winning duo fuses fine tailoring techniques with 100 % waterproof eco fabrics from Japan to create raincoats that don't look like raincoats. The high tech is hidden! Nominee «International Woolmark Prize 2014″ / Winners of «Award for Design Excellence 2012″ / Norway Nominee «Honors Award for Design Excellence 2012″ / «Designer of the Year 2012″ Naaloyet – Norway / 2nd runner up «Entrepreneur of the world within creative industries» CBC 2012 / «Talented Newcomer 2010″ Vogue Italia & WHITE (March)
Alexander Helle (NO)
Alexander Helle (32) is the creative director of Norwegian Rain. He took a 5 year master on the most renowned business schools in Norway and Italy (Norwegian School of Economics (NHH) and Universita Bocconi in Milan), in order to make a living from his creative skills. The rain project was initiated as the key focus of the master degree and quickly curved into a dugnad between local expertise from the creative scene of Bergen.
Tine Mollatt (NO) 
Tine Mollatt is the founder and designer of the women's wear label by TiMo (2004). The label is  sold in 22 countries and in 1000 stores worldwide. Tine's vision for by TiMo is to create true and honest women's clothing, built upon her own values and love for the craftsmanship of tailoring. And it was Tine's solid knowledge on economics, buying, design and tailoring from large commercial retail firms, that made it possible to build up a global success that by Ti Mo has become.
T-Michael (NO)
Bespoke tailor/ designer working out from the quirky pint size vibrant street Skostredet in Bergen, Norway for the last 17 years. Ghanaian born T-Michael moved to Bergen by way of London. His conceptual approach to his artisanal skills has resulted in a collection comprising of suits, shirts, coats, shoes and bags. This has also led to collaborations with other creatives such as Kirk Originals, Spencer Hart, Art Comes First and 3 short films. Welcome to the creative universe of T-Michael
Tone Skårdal Tobiasson (NO) 
Tone Skårdal Tobiasson is currently editor of www.nicefashion.org and Oslo Fashion Week magazine, she has a background as editor and at one time owner of Tique magazine, has written several books and travels the world lecturing on environmental and ethical issues in the fashion business. She has a Bachelor in journalism and sociology from Stanford University. This fall, the book «Pure Wool», co-authored with Ingun Grimstad Klepp will be published in October (Aschehoug publishers).